---
Featured Special
Co-op Cost Cutters turns 20!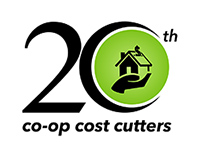 It seems like only yesterday that we launched our little buying program with 5 basic services. Those 5 core services are the backbone of the program 20 years later! It is a testament to the long standing relationships we have with our program suppliers – and their excellent service to our co-ops.
In its 20th year, Co-op Cost Cutters is stronger than ever. It is the largest buying program for co-ops in Canada, serving over 600 co-ops across the country. Be sure to browse www.co-opcostcutters.coop to find out which services are available in your area.
The newest service is City Reporter, with unit inspection software that has content specific to co-ops. It has been tested in our sector and given two thumbs up by staff.
A co-op's units are its biggest asset. City Reporter streamlines unit inspections, eliminates paperwork and reduces repair times to help maintain units in optimum condition.
Click here to find out more about City Reporter and how to reach this Canadian company for details. The service is available across Canada.
As always, your feedback is very important to me. If you have questions or concerns about any of the services in the program, do not hesitate to reach out to me at the email address below. I look forward to serving you in 2018!
Miriam Wohl,
Co-op Cost Cutters Co-ordinator
miriam@coophousing.com